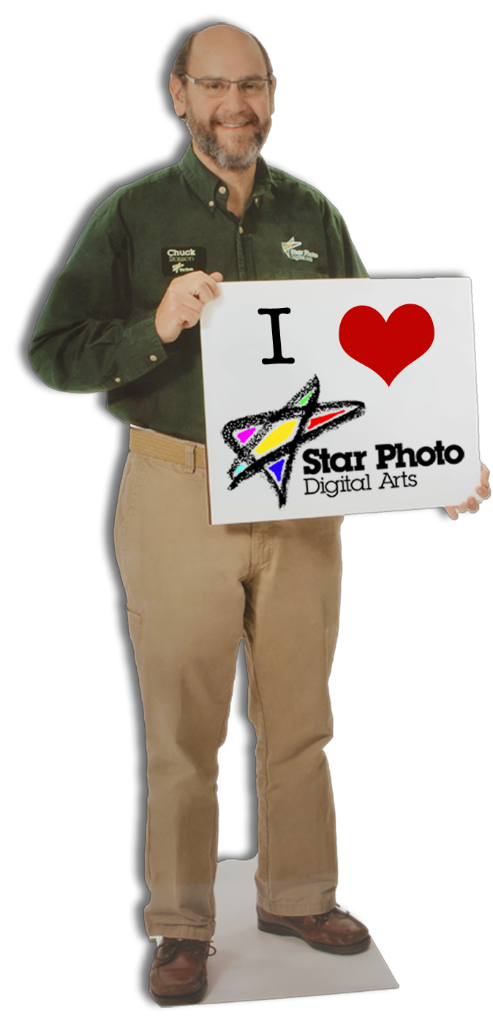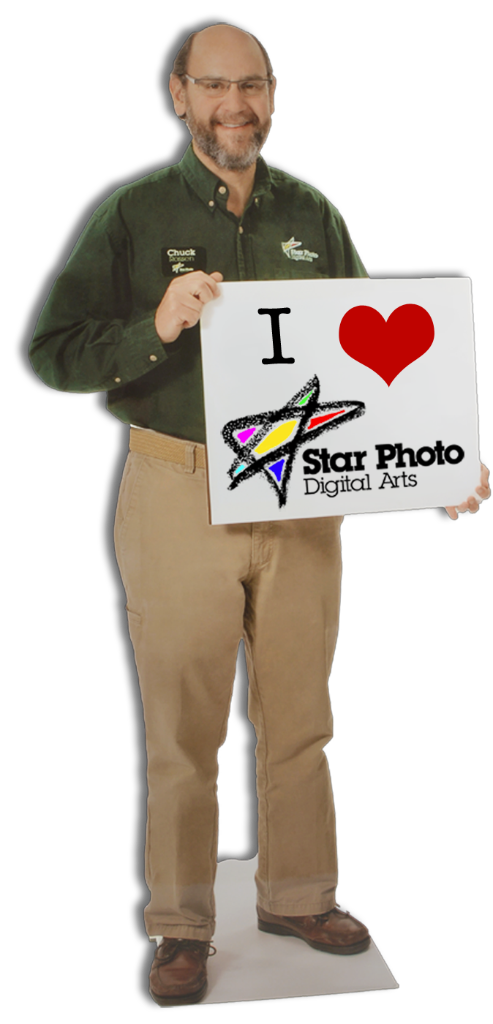 Life-size cutouts can be made from any file, film or print. The final print quality will depend on the quality of your original image. Prepayment will be required upon approval of a print test strip.  Turnaround time is usually 3-4 days.
The Basic Cutout print is mounted on 3/16" foam board and includes a glossy laminate and a secure base. The foam board cutout is intended for limited use. It is perfect for events and parties. If the cutout is to be shipped, we will make it in two pieces for easy assembly. For long term use, especially those made for commercial use with frequent handling, we recommend that the cutout be mounted on gatorfoam.  Gatorfoam is a much more rigid material that resists warping and bending over time.
The price is based on the height and width of the cutout, and includes the cost of the print. For extra wide cutouts of groups, cars, motorcycles, or anything else wider than 42", a separate quote will be required. Talking bubbles are $40.00 each and are made to be removable from the cutout.  We also can do smaller tabletop cutouts.
A standard cutout up to 31" wide is $25 per foot of height (minimum 3 feet), wider cutouts and cutouts of couples 32"-42" wide are $30 per foot of height (minimum 3 feet). Glossy lamination is included; satin lamination is an additional $5.00 per foot. Mounting on gatorfoam is an additional $10.00 per foot (other materials by quote).
| | | | | |
| --- | --- | --- | --- | --- |
| Height | Up to 31″ wide | 32″ – 42″ wide | Add Satin Laminate | Add Gatorfoam |
| 3 ft | $75.00 | $90.00 | Add $15.00 | Add $30.00 |
| 4 ft | $100.00 | $120.00 | Add $20.00 | Add $40.00 |
| 5 ft | $125.00 | $150.00 | Add $25.00 | Add $50.00 |
| 6 ft | $150.00 | $180.00 | Add $30.00 | Add $60.00 |
| 7 ft | $175.00 | $210.00 | Add $35.00 | Add $70.00 |
| 8 ft | $200.00 | $240.00 | Add $40.00 | Add $80.00 |